Holy cow, we can't believe that week 7 is over and we are heading into our last week of camps for this summer! We had a really great week and I asked one of our camp counselors, Joey Myers, to share on the blog this week.
Before we hear about Joey's week in Advanced Archery, I will talk about the other camps we offered in week 7. In the morning we had Advanced Archery and Precision Shooting. This week in precision shooting, campers got to do a gold coin shoot, golf ball shoot, and got to learn about how much fun it is to shoot with a scoped gun!
In the afternoon we had Basic Marksmanship and Top Shot. In Basic Marksmanship, campers got to learn all of the basics of riflery and all of the ways to be safe while shooting. The camp was small so the kids got a lot of shooting time and got to know each other and the camp counselors really well. Top Shot was brand new this week with Dude Perfect inspired challenges. Campers did archery trick shots, ping pong ball trick shots, air rifle trick shots, and so much more! We recorded the trick shots each day and are planning to make a video soon to show you all the fun!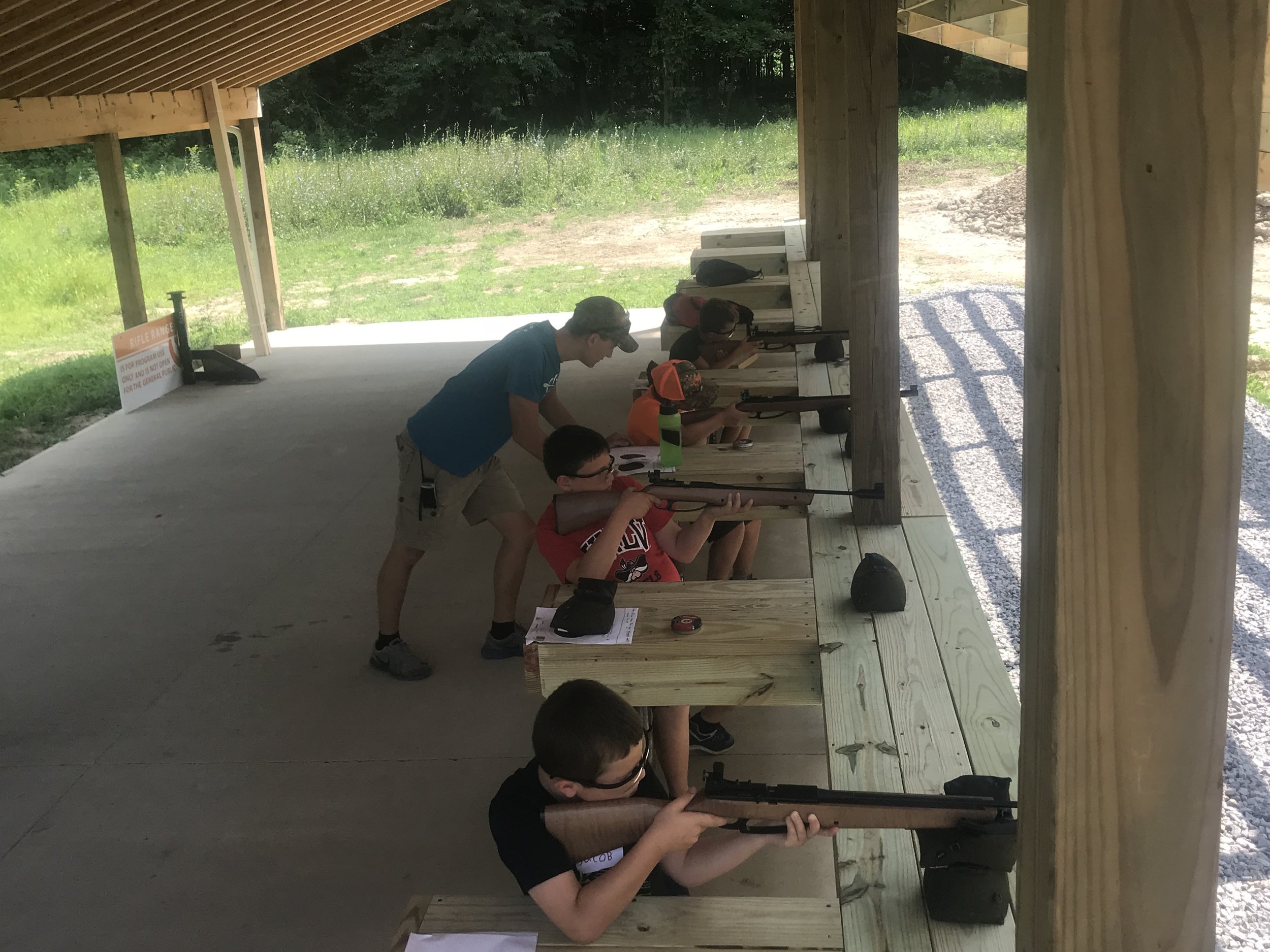 Advanced Archery was so much fun last week with a huge group of shooters! Joey loved being a part of the camp and I am so excited to share his experience with you all;
"During Advanced Archery the kids went far and beyond what they feel comfortable in by learning and shooting at different distances. Along with shooting all the way to 20 yards, they also got to shoot in many different tournaments. The kids got to experience how a real Vegas archery tournament works, they also got to learn how to shoot a 5 spot tournament and got the chance to shoot a 3-d tournament.
With this group we were able to showcase one of our newest purchases; our archery tag set. They were able to play against each other and even got a chance to face the staff that day, which they loved.
My favorite moment this week came in the form of just how everyone became great friends no matter where they came from or their background. Everyone saw each other as friends which made the games and week even better." ~ Joey Myers
We have been truly blessed to get to know so many amazing kids this summer and we are excited to get to know even more during our last week of camps for the summer.
Thank you so much for your continued support of our ministry!
Blessings,
~ Katrina (Program Director) & Joey (Camp Counselor)